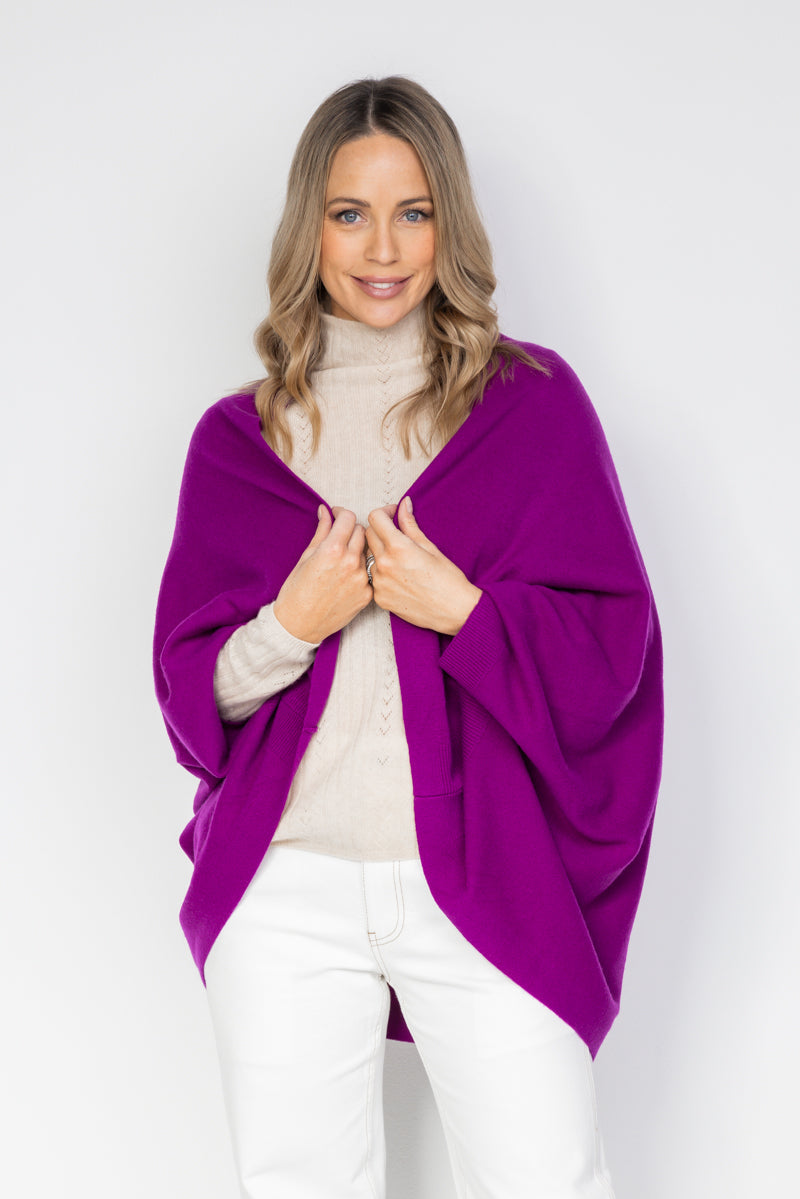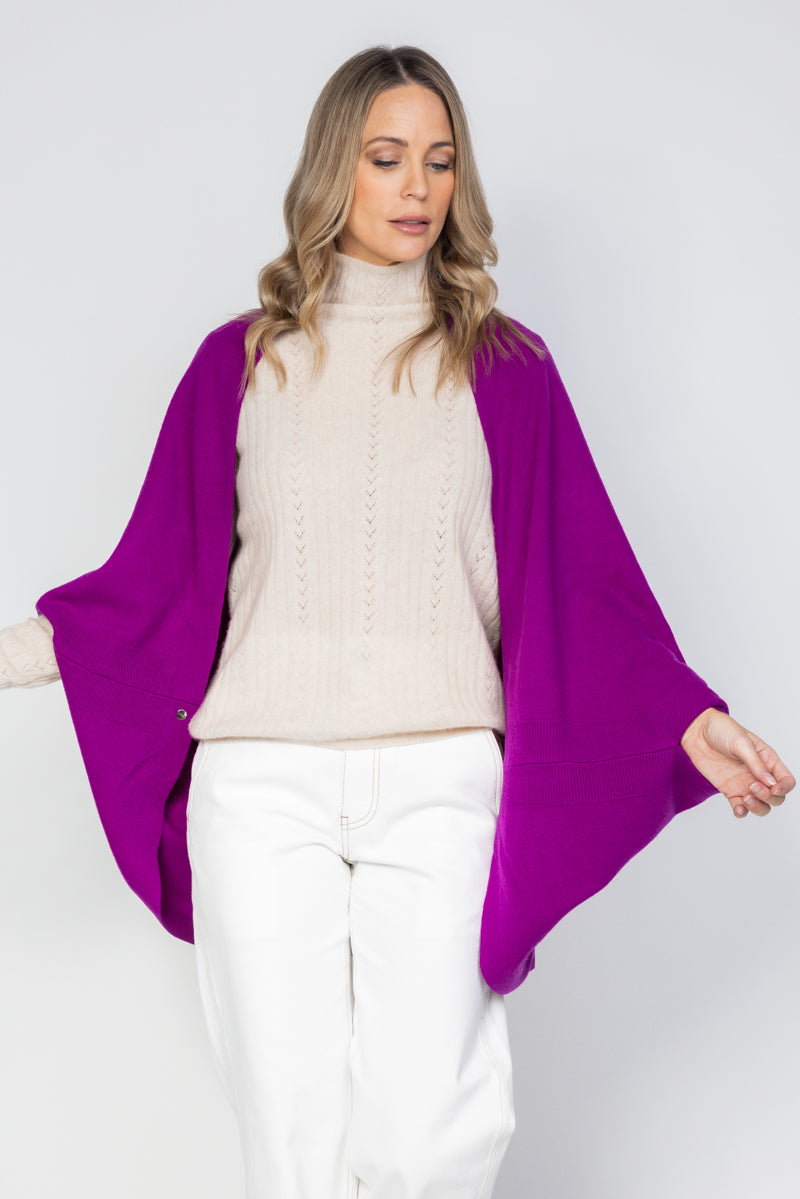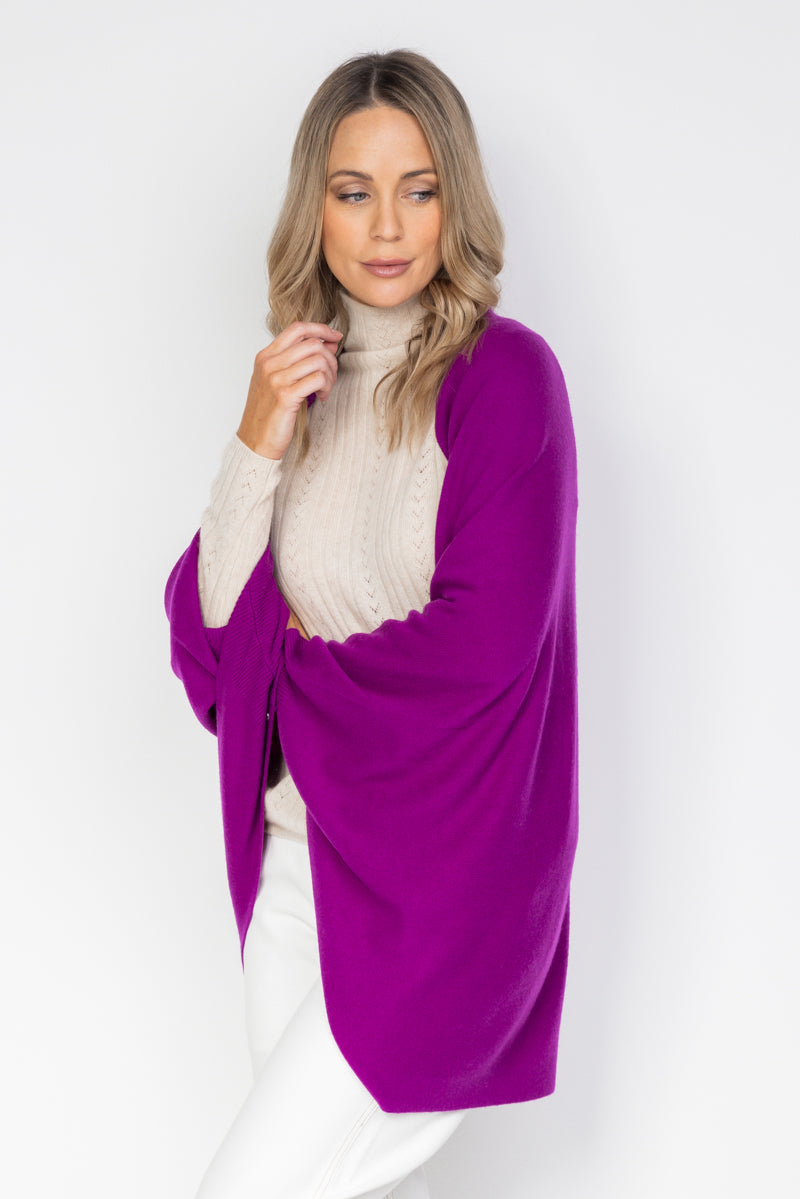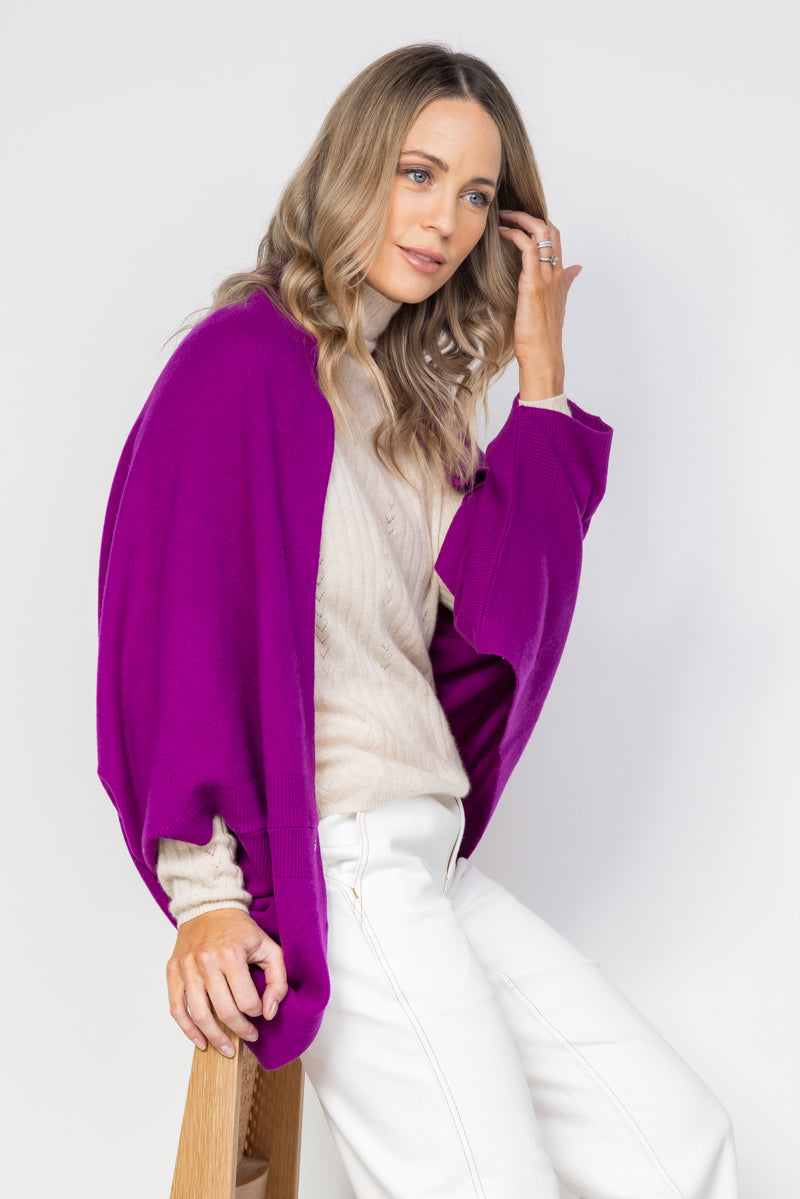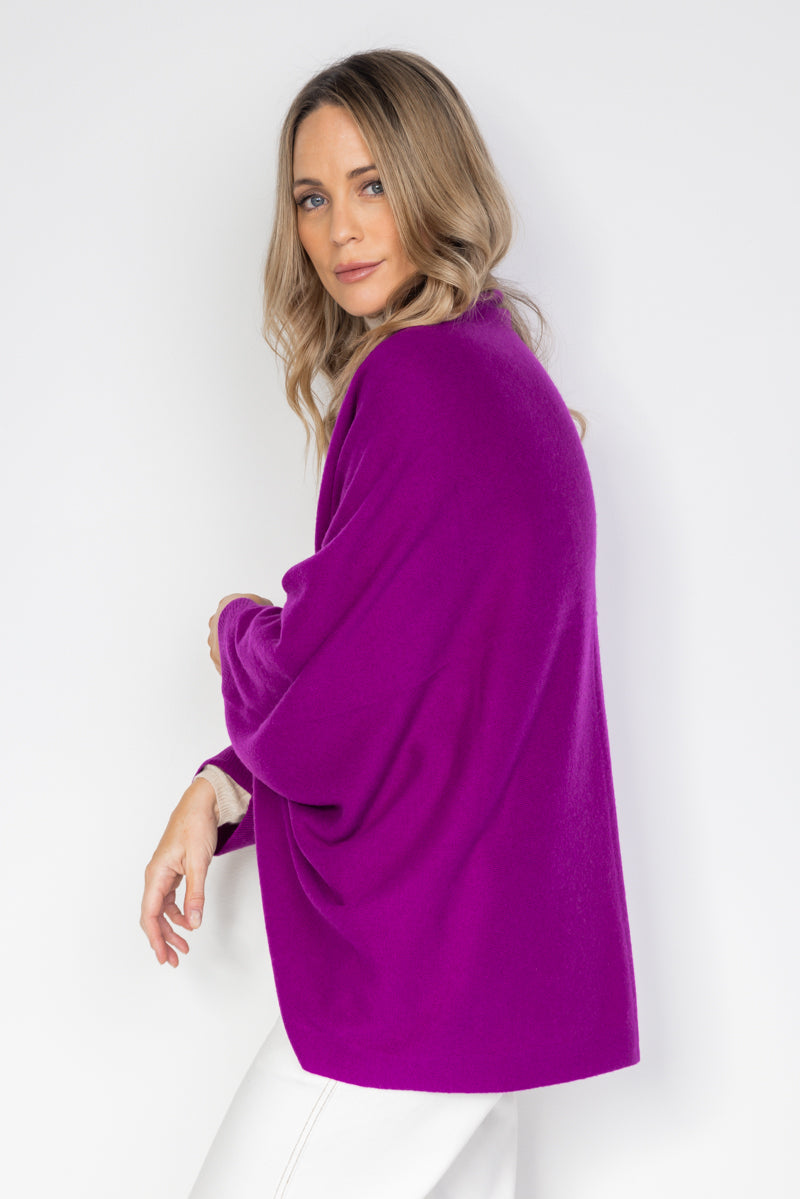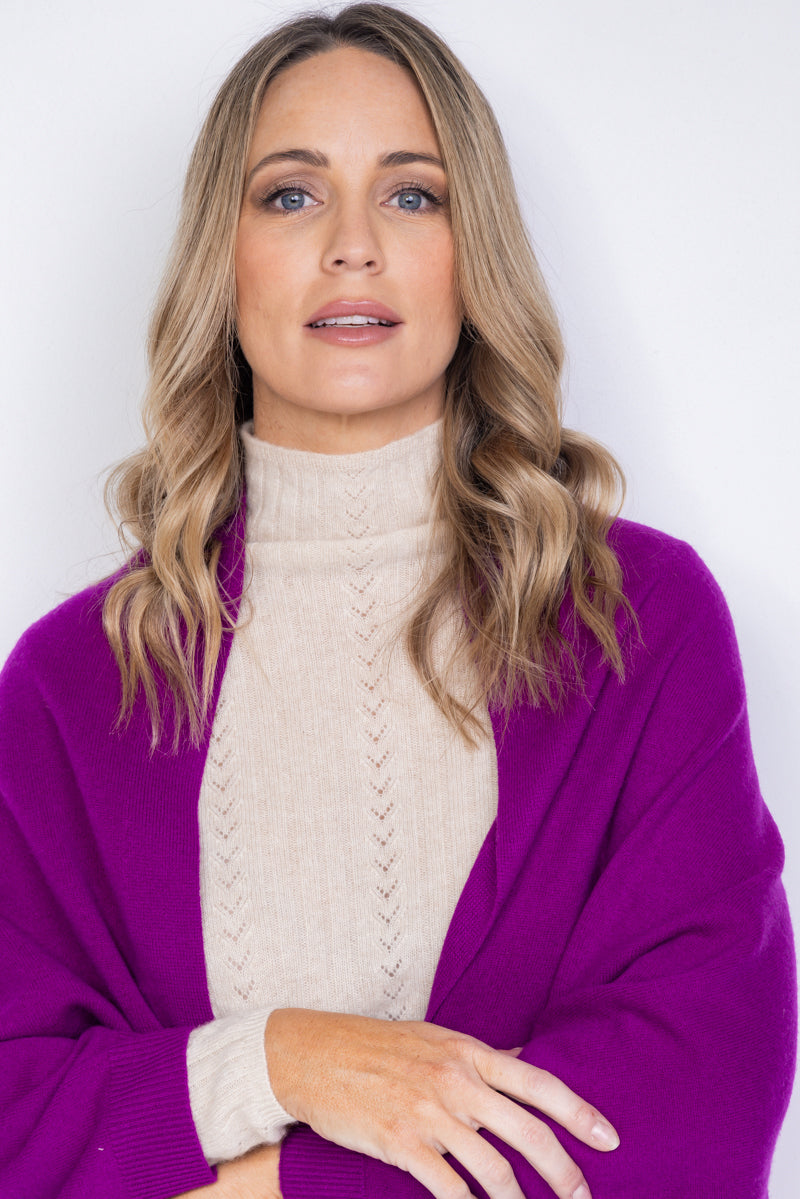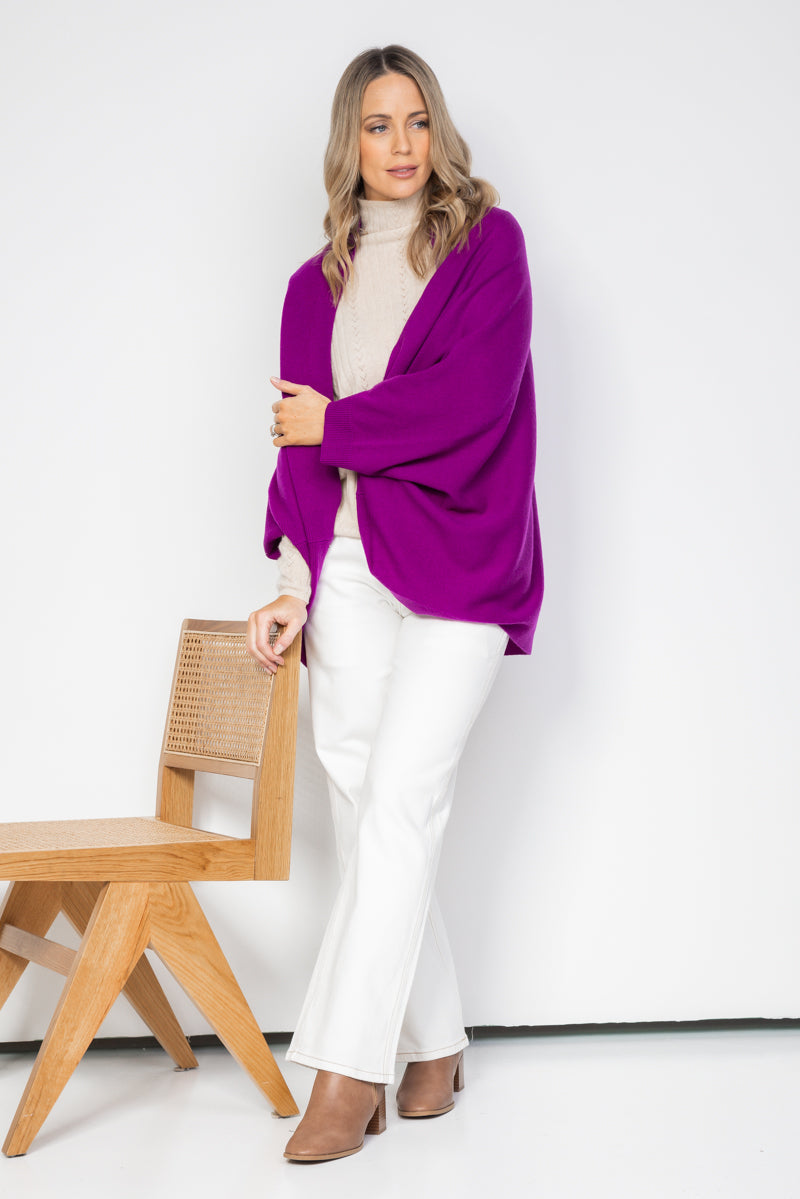 Our Cashmere Shrugs now available in a bright Magenta pop of colour.

A wonderfully versatile piece which can be worn as a shrug, a cardigan or a wrap.
In 100% cashmere, this snuggly shrug will carry you through winter with comfort, style and ease.
Get 10% off any magnet brooch if purchased with any Shrug or Scarf.
Every purchase includes our beautiful silk storage bag and care guide.  
Cara Cashmere is proud to be the first Australian member of the global Sustainable Fibre Alliance (SFA) and source our cashmere through this initiative. We support slow fashion and focus on smaller production runs of lasting high-quality pieces.

Find Out More
1.3m long x 80cm wide
100% Cashmere, 12 gauge knit
275g

Model: 5ft 8", Size 10
Delivery within Australia and New Zealand
→ Free for orders above A$190
→ A$15.00 for Express Post (AU)
→ A$16 for Express Post (NZ)

Delivery outside Australia and New Zealand
→ A$20 for International Standard Tracked Postage.

Returns and/or Exchanges are FREE.

Shipping Policy
Refund Policy

beautiful shrug - lovely and soft
I have now three shrugs and love all of them and are still wearing them. They are very easy to have and if Im somewhere where the air conditioning is to cool for me I pop on my shrug and feel wonderful. Thanks annie you have done it again.
Dear Helen,
Thank you so much for your kind words.
The Magenta is a beautiful and vibrant colour- we are so glad you added one to your collection- they really are the perfect piece to keep the aircon chill off!
We can't wait to release more beautiful colours next year!
Annie x
A lovely surprise
I happily received this beautiful shrug as a gift. It is snuggly warm, stylish and versatile. I am looking forward to taking it on my next trip as a light and warm layer.
Soft, comforting and perfect
This was the perfect gift for a very dear friend. Soft, comforting and warm, fitting beautifully, and now I want one for myself! Always beautifully packaged and stunning.
Thank you Fiona. We are so glad we could help you with this purchase. It was a very kind and thoughtful gift. We appreciate your lovely review.
Warm regards,
Sarah
Gorgeous, warm and soft and elegant
I really love my oversize shrug. It keeps me so warm. It did take me a little while to get used to bunching it into my shoulders to keep it from slipping off, not I think I've got the hang of it now!
Beautiful Shrug!
Soft, warm and very stylish! I love this shrug and plan on traveling to Europe with this very versatile piece.
Hi Kelly,
We are very jealous of your Europe trip! We hope you have a wonderful time abroad and your shrug keeps you cosy.
Thank you for taking the time to write a review.
Safe travels.
Warm regards,
Sarah
Love from Happy Customers